Romance can be an elusive dream when you have kids and jobs and too much on your plate—working late hours and meeting each other coming and going. Know the feeling?
Let me tell you a story. We were in our forties and preparing to send our youngest son to college. Money was tight, but not as tight as time.  We had been married for nearly twenty-five years and our marriage was getting to the point it needed a dollop of romance. My husband was good about taking me to a restaurant, but this time I felt we needed a more intimate setting. Restaurants were old news. We often ate out because of our time issues. I couldn't think of anything better than just being at home alone—together for an evening.
I decided to take the initiative and plan a date night. It would be the perfect way to kick-up the romance a notch. I incorporated the help of my seventeen-year-old son and thirteen-year-old niece. We planned a night to remember. I made a fancy homemade invitation and mailed it (snail mail) to my husband at his work address. It included the date, time and place—home.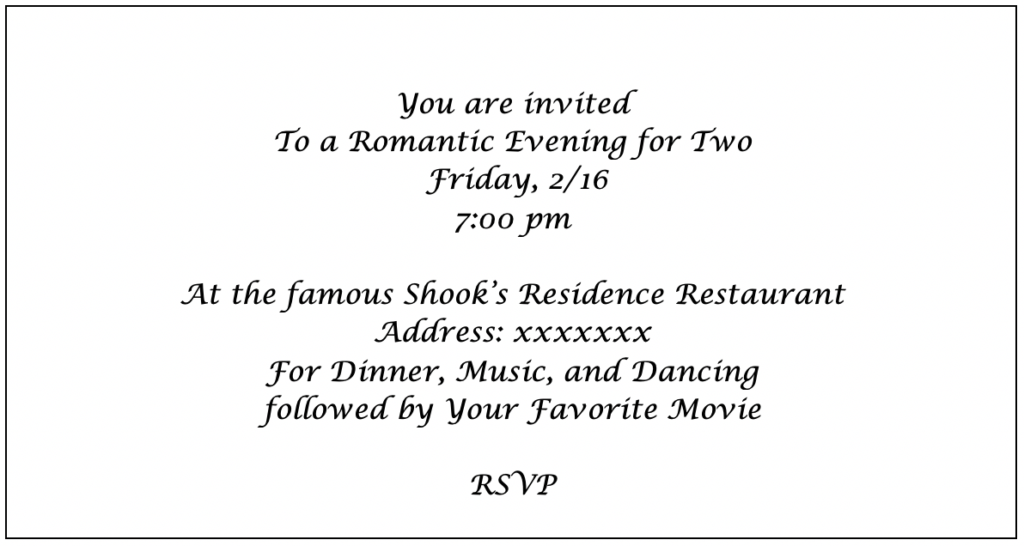 I used our home address for the restaurant and sent a self-addressed stamped envelope with my work address for the RSVP card.
It was such fun to plan and execute. I love that my husband played along so well. He never mentioned getting the invitation and I never mentioned sending it, but in a few days, I received the RSVP accepting the invitation.
I planned a special menu of "Fantastic Fish". My son, Micheal, agreed to play disc jockey and my niece, Melissa, played the role of server and hostess. We pulled out the old 45's. Shh. Don't tell anyone we are old. I chose the songs most special to me and my husband. They were a bit scratchy sounding, but perfect for our occasion. Righteous Brothers, Neil Diamond, Linda Ronstadt, Simon and Garfunkel were among them. The kids helped me cook a fabulous menu, and set up the dining room table for two, with linen, chipped china, water goblets, coffee cups, and candles. I sent my son to the video store to pick out a movie his dad called his favorite. Soon everything was ready except the fish. It would be a last-minute prep, a baked dish. I set the timer, tucked it into the oven and gave Micheal and Melissa last minute instructions. Micheal seated me at the dining room table, where I sat nervously waiting for my date to arrive. Would he be on time? Would he be tired and not play along? Would he even show?
Promptly at 7:00 p.m. I heard a car pull into the drive. He was here. Nervously, I looked at Micheal and Melissa. "Showtime!" Micheal started the music and Melissa escorted Bill to the dining room.
When he walked into the room carrying a bouquet of flowers, my heart skipped a beat. He uncharacteristically wore a suit jacket with his jeans. Fresh shaved and smelling wonderful, he kissed my cheek before sitting next to me. The candlelight made his eyes twinkle, and he winked. I blushed. The Righteous Brothers' Unchained Melody played in the back ground as Melissa brought out the salad plates. Bill and I talked and laughed at some of the old songs we used to listen to, and when a sweet memory came on the stereo, Bill covered my hand with his and gave a soft squeeze.
Micheal played a fun disc jockey adlibbing corny jokes between announcing the name of the song and artist and playing our old 45's. Melissa was an awesome little server/hostess in her black skirt and white blouse, wearing a white linen cloth over her forearm. The "Fantastic Fish" smelled marvelous and looked appetizing when Melissa carried our garnished plates to the table.
Bill loves fish, and I had found this beautiful recipe for Orange Ruffy. Trouble was our first taste left us both struggling to keep a straight face. It was horrible! I could have cried, it could have ruined our night, but Micheal caught onto the mood and quickly played a fun, upbeat song. Finally, I laughed aloud. Bill hesitated, but soon laughed too. Our hostess gracefully removed our dishes, while our disc jockey invited couples to dance.
Bill stood and reached for my hand. My husband doesn't dance, you see, so this was a huge romantic gesture. We laughed and danced in the small, tiled space available in the foyer. Then a soft, slow song played, and we just stood swaying, holding each other until it was over. During the pause afterwards, our disc jockey announced dessert would be served in the dining room followed by popcorn in the "Den Theater" where Clint Eastwood would star in the feature film. The soundtrack to The Good, The Bad, and The Ugly played and we laughed at our son's creativity.
Dessert of cheesecake and coffee topped the night off. Melissa brought in the meal ticket which was made up on notebook paper with an outlandish price. A note on it said: "prepaid by a secret admirer". My husband generously tipped both the waitress and disc jockey. (Which was split with their additional roles as bus-staff and dishwasher).
Bill and I moved to the living room where my son started the movie and Melissa brought in the popcorn and soda. They cleaned up the kitchen and then Micheal took Melissa with him to meet friends for dinner, and we were left alone. I don't remember anything about the movie, but the evening was so special that it doesn't matter.
Can you think of a way to enhance the romance in your life? It doesn't take a lot of money to have a special date night. Put your little ones to bed early or set them up with your relatives for the evening. Or get them involved like Micheal and Melissa. Even a four or five-year-old can help. Get creative.
Fantastic Fish has become a private joke at our house when anything doesn't go right. It is a fun memory not just for me and Bill, but for Micheal and Melissa too. If you've tried something similar, I'd love to hear about it. If not, give it a try and let me know how it goes.
Remember, wherever you are in life, you are at the right place when you visit my website and read my blog. Come on back and share a slice of life with me.