Shelia Shook's
Inspirational Romance
Real life. Humor added.
Author Shelia Shook's books often explore the spice of life, but always have a pinch of humor.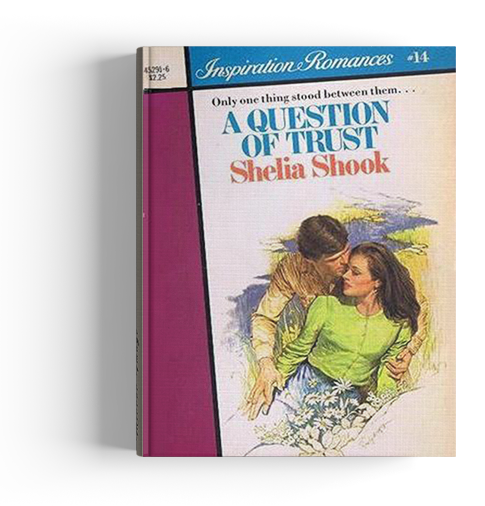 A Question of Trust
By Shelia Shook, Published 1984

After one treacherous round with love, Leanne Masterson promised herself that she'd never trust a man again. God had blessed her with a peaceful, rich life, a content life–until Bart Hall entered the picture.

Tall and charming, he marched onto her father's property and made an offer the family couldn't refuse. He would be Leanne's new neighbor, in spite of the fact that she couldn't trust herself whenever he was near. In his arms she found a happiness she'd never dreamed possible … if only she could trust her heart and have faith.

Note – Shelia is currently preparing this book for republication. Not currently for purchase. Look for it next year!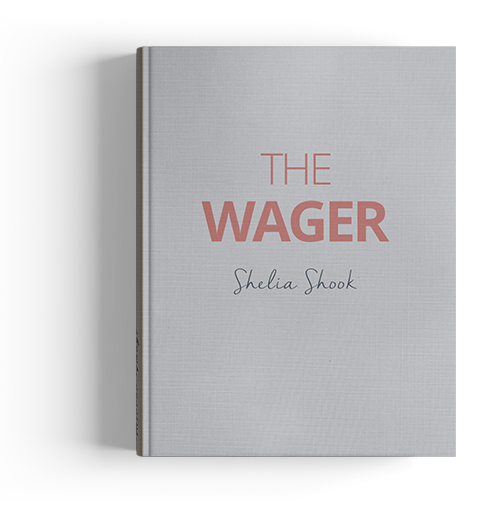 The Wager
By Shelia Shook, Seeking Publication
Rachel Wiest traded spiked heels for sneakers, fashion runways for a stethoscope, and promiscuity for celibacy. Her work as a hospice nurse and dedicated patient advocate is more than a career—it's her calling. So when the hospital-based hospice where she's employed is in danger of being shut down, she'll do anything she can to help save it—even if that means working with her childhood heartthrob, the now arrogant Dr Jack Neal.
Distinguished trauma surgeon Jack Neal's career is in a free-fall. The only job he can get is in his hometown, and that's only because the hospital administrator believes Jack is the expertise the failing rural hospital needs to get back on its feet. However, when he allows his cynicism to jeopardize his, hopefully temporary-only, ER position, the cynical and recovering alcoholic is assigned six weeks of community service—working with hospice. Jack hates hospice. But upon discovering the assignment is to make house calls with his old crush, the feisty six-foot hospice nurse, Rachel Wiest, he decides he can tolerate it long enough to convince the judge he is a compassionate man.
When Jack admits his plan to Rachel, she calls it unscrupulous.He calls it survival. He's cold and cynical and likes being that way, but he challenges her to try and change him, if she thinks she can. Though not a gambler, Rachel accepts his wager with unwavering faith. She believes if God can change her, He can change anyone—even a godless, pompous jerk, like Jack.
Can Jack change? Or will his cynicism cost them both their jobs? And their budding relationship?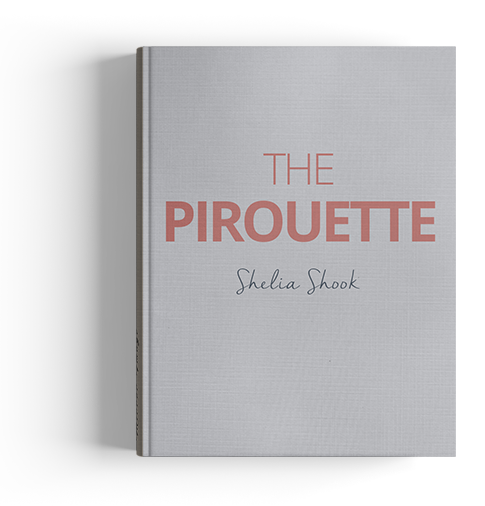 The Pirouette
By Shelia Shook, Writing In Progress

Bradley Fields never wanted to be a funeral home director. But when his father announces his pending retirement from the family funeral home business, Brad realizes what was meant to be a temporary situation to appease his family, is now frighteningly close to becoming permanent. Will his family forgive him if he chooses to walk away from the family business? They want him to take over the family business. He doesn't want to take it over. They want him to settle down with a nice girl. He doesn't like nice girls. That is until the petite Asian hospice secretary begins to stalk him.

Cindi Lin Howard may appear to be a nice girl, but she's no angel, and she knows it. Trying to hide from her past mistakes, she tosses a penny onto a map and hitchhikes out of New Orleans. Like the penny, she lands in the small Texas town of Cold Creek. She gets a job, makes friends, and meets Brad. He likes to play the lady's man, the typical bad-boy that always got her into trouble, but Cindi Lin sees behind his persona to a soft-hearted, compassionate man. The kind of man she could love. But could he love her? Could anyone if they knew her past?

How will they each find forgiveness and accept God's love is unconditional?

Coming Soon!
Contact me
Reach out to me by filling out the form below.
DISCLAIMER: By participating in/reading my coaching/website/blog/email/questions or answers, you acknowledge that I am not a licensed psychologist and my services do not replace the care of a psychologist or mental health care professional. I will at all times exercise my best professional efforts, skills, and care. However, I can not guarantee the outcome of my coaching/ recommendations/website/blog/emails/questions and answers and my comments are expressions of opinion only.
I can not make any guarantees.